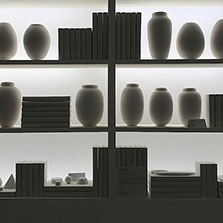 Maison & Objet 2017 in Paris "Silence"
ELEMENTARY is pleased to have been invited to participate at the Maison & Objet 2017 Inspirations exhibition "Silence", with the White Stone Objects and Modern Human Tools marble collections.
Chinese New Year 2017 window display for the YAUATCHA restaurant in Soho
A display of laser-cut wooden shapes in gloss red, representing bursts of Chinese fireworks and firecrackers to celebrate the New Year of the Fire Rooster.
Yauatcha Soho Restaurant Window Display Winter 2016
FLASHES OF WINTER:
FRAGMENTS OF WHITE SCENERY MEMORIES,
UNDEFINED AND MISTY FROM A DISTANCE,
DISTINCT AND EVOCATIVE UP CLOSE.
Yauatcha Soho Restaurant Window Display Autumn 2016
TRANSCENDENT FOREST:
The vibrant celebration of colour and gentle melancholy of autumn forest
Reiko Kaneko "All That is Broken is Not Lost" exhibition
LDF 2016 (16-25 September)
Reiko Kaneko uses traditional Kintsugi lacquering (golden joinery) and draws together a collection of unique hand-glazed fine bone china and terracotta.
Yauatcha Soho & Yauatha City - Pastry Window Display Spring theme 2016
Introducing the Spring season ELEMENTARY created 160 wooden volumes in a variety of abstract forms and new season colours; which have been arranged organically to represent the gentle emergence and awakening of life.
We are excited to be hosting Fine Bone China ceramics maker Reiko Kaneko presenting the art and science of reactive glazing on fine bone china. Here the series of beautiful geometric vases in 3 sizes.
FRAME SHELF by LISTEN STUDIO
London Design Festival 13th to 21st September
ELEMENTARY is pleased to present the newly completed product range Frame Shelving V.2 by Listen Studio.
This wall mounted system takes a paintings structure as its reference and occupies a similar space within the room.
Made up of fabric stretched panels housed within a powder coated Aluminium frame, these lightweight display units are offered in an assortment of colours and sizes.
White Stone Objects at the Dover Street Market in Mayfair London
ELEMENTARY is presenting White Stone Objects: basic-form, decorative pieces made from what is considered to be the purest snow-white marble; Thassos marble.